Description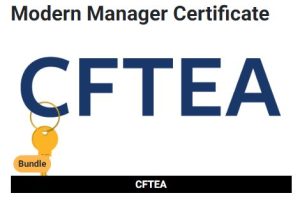 Great leadership skills don't just show up with a job title. A talented employee that has been promoted to a team lead, supervisor, or manager position deserves to be given the proper tools for success in their new leadership role.
Credits:
PMI PDUs: 28
Power Skills PDUs: 12.75
Business Acumen PDUs: 7.25
Ways of Working PDUs: 8
IACET CEUs: 3.6 (Contact Hours: 36 hours)
HRCI Credits: 30 (Type: Specified – Strategic Business: 17, General: 13)
SHRM PDCs: 33
Managers face new challenges in today's business world. The Certified Modern Manager covers new material from Harvard and M.I.T. educators that allow managers to provide a measurement of their knowledge and skill to enhance their career development as a step beyond the Certified Modern Supervisor. For additional information for new managers, see The Effective Manager's Toolbox.  SHRM accredited.
Required Courses:
Modern Manager Final Assessment
Award Application and Career Pathing
This course applies to the following awards: