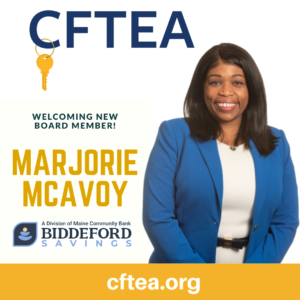 A huge welcome to our newest board member: Marjorie McAvoy of Biddeford Savings​!
Marjorie comes to CFTEA with 15 years of banking experience and 7 years in management. She has her Bachelors in International Business Management from Southern New Hampshire University and is currently working on her Masters Degree.
Marjorie is a Branch Manager at Biddeford Savings Bank with an extensive background in banking and volunteer opportunities. She looks forward to working with our highly positive and collaborative board where she can bring her energy for continued learning and development.
CFTEA uses our Nominating and Personnel Committee to review board applicants that fit the needs and culture of our non-profit. We are thrilled to welcome Marjorie to the CFTEA board! Congratulations, Marjorie!