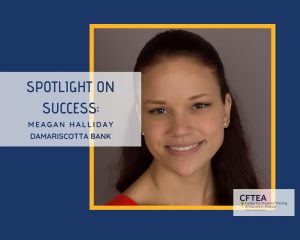 Spotlight on Success:
Meagan Halliday
Damariscotta Bank & Trust
This is what Meagan had to say about her experience working with CFTEA:
"I decided to take the Modern Supervisor course with CFTEA because I wanted to increase my knowledge and skills when it comes to being a manager.
I was offered to take the course when I received my promotion to Assistant Manager. I have also encourage some of our Customer Relationship Representatives to take the customer service course offered through CFTEA.
Taking the CFTEA course has helped me better my communication skills not just at work, but outside of work as well. I feel more confident having conversations that could be uncomfortable but are necessary to have."