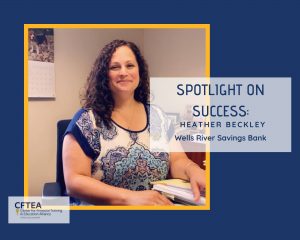 Spotlight On Success
Heather Beckley
Wells River Savings Bank
Here's what Heather had to say about her CFTEA experience:
"I started taking classes with CFTEA early on in my banking career because I didn't have any banking experience.  I
was working part-time and going to college full time; the flexibility of the self-study programs allowed me to complete Principles of Banking.
This course gave me a good foundation to grow on.
The next two classes that I'm going to focus on are Fundamentals of Credit Analysis & Business Finance, and Advanced Credit Analysis & Business Finance.
These two courses will help me in the role of Credit Analyst.  I'd also like to work on obtaining my Supervisor Certificate, by completing that, I'll also be completing my Advanced Financial Services Diploma.
Part of the Wells River Savings Bank Mission Statement is "to create a place where our employees can learn, grow and be fulfilled in their work."
They really do mean this and support the employees from the top down.  It's a very nice feeling when your CEO acknowledges the employees that received certificates or diplomas in a bank wide email, and also recognizes how much time and effort the CFTEA classes require."