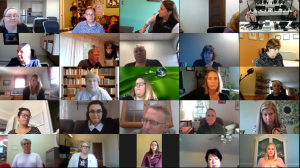 Three cheers for attendees at the 2020 CFTEA Virtual Leaders Conference!
While meeting in person wasn't an option due to COVID-19, the energy and sharing came through the learning and development community! Thank your for your attendance and engagement. Our conference had over fifty in attendance from Maine, New Hampshire, Vermont and Virginia!
For those that weren't able to attend – follow CFTEA on Facebook or on our news page for the latest information and announcements coming out of our conference!