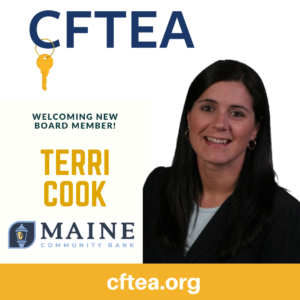 A huge welcome to our newest board member: Terri Cook of Maine Community Bank​ which includes Biddeford Savings​ and Mechanics Savings​.
Terri is VP, Retail Operations Manager at Maine Community Bank and is a past council member with CFTEA. She has extensive non-profit board experience in the community, such as the United Way and Make-A-Wish, and over twenty years experience with financial institutions. Terri has her Bachelor of Science in Business Administration as well as being a graduate from the New England School for Financial Studies and the Northern New England School of Banking..
Terri looks forward to working with our highly positive and collaborative board where her leadership and modern vision will chart the course of our non-profit in 2021 and beyond!
CFTEA uses our Nominating and Personnel Committee to review board applicants that fit the needs and culture of our non-profit. We are thrilled to welcome Terri to the CFTEA board! Congratulations, Terri!