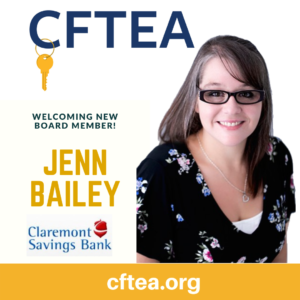 A huge welcome to our newest board member: Jenn Bailey of Claremont Savings Bank​!
Jenn comes to CFTEA with a number of years of banking experience and is a former student. She worked for a non-profit for 12 years before entering the banking world.
Jenn is a Branch Manager at Claremont Savings Bank and is looking to become an impactful leader with the CFTEA board. Jenn's enthusiasm and people-focus are a great fit as she gains board experience. With how quickly banking change change, such as during the pandemic, she is excited to work with a non-profit that is staying current and looking to the future of career paths and development.
CFTEA uses our Nominating and Personnel Committee to review board applicants that fit the needs and culture of our non-profit. We are thrilled to welcome Jenn to the CFTEA board! Congratulations, Jenn!