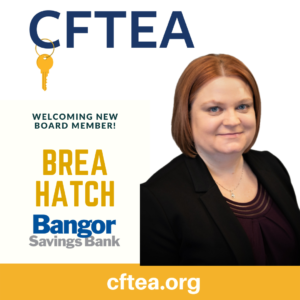 A huge welcome to our newest board member: Brea Hatch of Bangor Savings Bank​
Brea comes to CFTEA with 12 years of retail banking experience. She is currently working on her Business Administration degree from Southern Maine Community College and Husson University. Brea is a former student and instructor for CFTEA.
Brea is an Internal Auditor at Bangor Savings with an extensive background in banking and volunteer opportunities, such as New Hope for Women She looks forward to working with our highly positive and collaborative board where she helps shape our non-profit for 2021 and beyond!.
CFTEA uses our Nominating and Personnel Committee to review board applicants that fit the needs and culture of our non-profit. We are thrilled to welcome Brea to the CFTEA board! Congratulations, Brea!