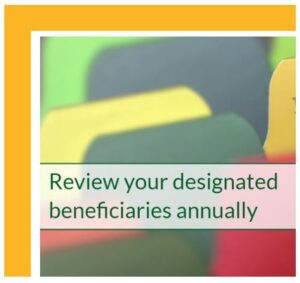 At the start of a new year, there are so many things to check and goals to tackle.  If you haven't done it yet, tackling an annual check of your beneficiaries on your Pay on Death (POD) accounts at financial institutions and more allow you to retake control of your finances.  ​A periodic review of all your beneficiary designations is an essential step in the financial planning process. Don't wait until it's too late.
If you're like most Americans, you have your retirement plan and your life insurance handled through your work. You may also have an IRA floating somewhere and a standalone life insurance policy that you bought from your friend's wife who is an insurance agent.
When was the last time that you looked at any of your plans?
Life changes as we age and with those life changes come big things, like a spouse, kids, a house. Each one of these big life changes means it's time to check your beneficiaries.   If you can answer "yes" to any of the following questions, you may need to update your accounts:
Have you married or divorced in the last year?
Does a divorce decree or property settlement agreement specify you have to name anyone in particular as a life insurance beneficiary?
Have there been any deaths among your current beneficiaries?
Do you have any stepchildren who need to be added?
Do amounts need to be adjusted?
Do you have children from a prior marriage? Do you want to keep them as beneficiaries?
Have any new children or grandchildren been born? If so, what share should they receive?
Are your current beneficiaries competent to receive the assets directly? Or should the assets go to a trustee or guardian?
Here are some steps to help you get started:
If you have a pension through your job, contact your HR department and find out who your plan representative is.
Ask your HR department for your beneficiary information on any workplace life insurance policies.
Contact your plan representative and request a copy of your Beneficiary information.
Contact your insurance agent to get a copy of your Beneficiary information for any life insurance policies you've purchased.
Go to your bank's online portal and see if your banking accounts have beneficiaries listed.
Compare the beneficiaries on all of your retirement accounts, life insurance policies, and bank accounts.
Here are a few questions to ask yourself:

Are they the same?
Do you have a former spouse listed?
Do you have your parents listed and you've since married?
Do you have anyone under the age of 18 listed?
A few red flags:

Ex-spouses should not be listed UNLESS it was part of the property settlement agreement.
Minors – people under the age of 18 – cannot directly receive an insurance payout or a retirement plan.
Having inconsistent beneficiaries without an overall plan.
Tidy up your beneficiaries. Complete new beneficiary forms if necessary to change a beneficiary.
Store everything that was updated in a secure location so you can easily access it next year.