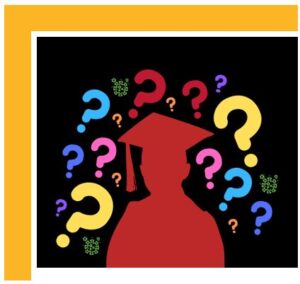 CFTEA has a number of affordable options to access college credits and workplace development opportunities. Discover how our non-profit can support the research article from Fierce Education.
Amid the global disruption caused by the Covid-19 pandemic, the workforce experienced a sharp increase in the number of those leaving or changing jobs. This phenomenon is often referred to as the Great Resignation, and the trend has illuminated a collective desire of the American workforce for more rewarding and meaningful work.
Historically, pursuing a higher education degree was believed to afford agency for the working class, and so enrollment numbers should have been rising as many began to rethink their career goals. However, the opposite has come to fruition, as confidence in postsecondary education is waning. Current, prospective, and former students now wager whether a four-year education is worth the time, effort, and cost, and, consequently, enrollment is on the decline.
To shed some light on the shifting motivations and perceptions surrounding education and career changes, Strada Education Network surveyed over 4,500 adults between the ages of 18 and 65 during spring of 2022. The survey included questions pertaining to employment and education changes each individual experienced since the start of the pandemic
The report found that decisions to enroll in higher education and training were largely driven by economic and career considerations. However, not all interested in pursuing education advancements ended up enrolling in a program due to numerous roadblocks. Primary barriers included cost concerns, doubt that education would lead to improved economic or career outcomes, and the issue of balancing work, schooling, childcare, and other personal responsibilities.
In fact, confidence that education leads to strong economic or career outcomes was the largest deciding factor for those who enrolled in postsecondary education. On the contrary, a lack of confidence in the financial benefits of additional education or training was the strongest consideration for those who did not enroll. The expected challenges of balancing education with work and other responsibilities were prominent for parents considering returning to academia.
The factors most likely to influence enrollment decisions included economic opportunity, flexibility, work-based learning, credit from prior education, financial aid offerings, and advising assistance, illustrated below in Figure 11 taken from the Strada report.
Furthermore, data from the report indicate that while those who have enrolled in education since the start of the pandemic have mostly experienced a positive career change, people who lost their jobs proved to be the most interested in education yet they did not enroll due to numerous barriers.
The report surmises that the following may aid those navigating education and career transitions:
Flexible programs and opportunities to learn on the job can make education more accessible for individuals balancing education with work, child care, and other responsibilities.
Understanding a strong connection between education and economic and career opportunities is a powerful motivation for pursuing postsecondary education and training.
Employer-provided training has clear value for workers who are navigating career transitions. With almost three-quarters of people who quit their jobs saying they would be interested in employer-provided training, providing this training could be an effective strategy for engagement and recruitment.
Cost remains a persistent barrier to pursuing postsecondary education, even among those who say they are interested.
Individuals who have lost their jobs show consistent interest in pursuing postsecondary education and training but lack confidence that it will benefit them in addition to experiencing financial or other barriers to enrolling.
Findings from Strada's report suggest that people experiencing a range of employment changes believe that education could be beneficial as they navigate various opportunities. Employers and higher education institutions should not only strive to address persistent barriers such as cost and schedule flexibility, but should also grant clearer connections between education and employment opportunities. In the aftermath of a world-changing pandemic, higher education institutions and employers must demonstrate how education can support individuals in their career development and, ultimately, their personal and professional goals.
Source: https://www.fierceeducation.com/leadership/great-resignations-impact-education-decisions