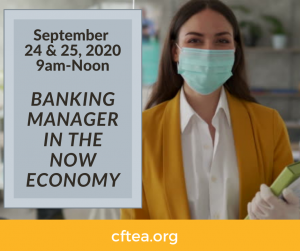 As leaders over the past several months, we have been tasked to continue growing the bank while at the same time keeping our team motivated.  We want to roll out the red carpet and invite you to join us for an exciting, timely, dynamic training where we can share challenges and best practices.  You will walk away with specific go-to's to help you navigate the months ahead.  You are a winner, and we welcome your participation in this seminar!
We will have direct training, combined with frequent, healthy engagement within small breakout groups using our meeting technology   You will share your ideas with others, and learn what is working real time from other banking managers in your state and across the nation.  
The first session,  Growing the Bank During a Pandemic, focuses on business development activities that you can undertake to boost your sales results.  We will focus on technology solutions that we can use to keep our sales pipelines healthy.  We will share best practices on virtual calling and positioning solutions to clients, effectively using technology.  We will share lead generation ideas so we know what to get busy doing in order to drive sales results.  Mostly, we will have FUN exploring how to help our clients even during lockdowns and when they are hesitant to meet with us.
The second session on Coaching for Optimal Performance focuses on us a leaders helping our team stay excited and motivated during times when clients sometimes say they're afraid to come in or upset having to wear masks.  We will discuss how to manage the team remotely and keep things moving forward even during a virtual meeting.  These are challenging times — and we can be remembered as leading the charge of change in a positive way!
Learn more and see the agenda here.