Updated: April 4, 2022 FOCUS ON BANKING & FINANCE
Teller talent wars: Maine banks, credit unions get more strategic about filling entry-level jobs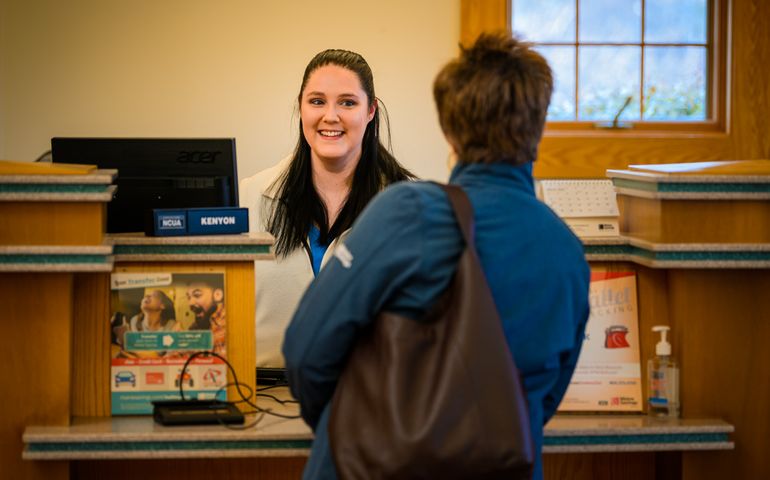 PHOTO / JIM NEUGER Kenyon Knue at work as a teller at Maine Savings Federal Credit Union in Hampden.
By Renee Cordes MaineBiz Magazine
Banking is brand new for 29-year-old Kenyon Knue, a former preschool teacher who started as a teller at Maine Savings Federal Credit Union in Hampden in March 2020 for better work-life balance. "Plus," she says, "there's no diaper changes here."
Up the road, at a Machias Savings Bank branch in Bangor, Kaitlyn Kappes, 23, started as a financial services specialist level 1 in January after leaving her job as a machine operator, pledging to "make banking my career and do the best I can."
Elsewhere in Maine, 21-year-old college senior Elliot Moulton is a Chase Bank customer-turned-employee in Westbrook. Savoring the change from part-time work at Target, he says that banking offers "a greater opportunity to build lasting relationships with our customers."
Regardless of the job title, entry-level front-line employees are in high demand at Maine financial institutions engaged in a talent war with each other — and other industries — in the current tight labor market. While that's allowing some institutions to attract people from outside banking, many are scrambling to find crucial staff for branch jobs that can't be done remotely.
The need extends beyond the competitive southern Maine market, which recently got more crowded with four new Chase branches and a fifth slated for 2023, to encompass less densely populated rural areas.
"The hiring is the tricky part," laments Danielle Daley, who oversees human resources for Machias Savings, which employs 305 people. "To find someone who is skilled and a culture fit hasn't proved to be easy over the last 18 months."
Though the bank doesn't have any current openings, a smaller candidate pipeline and a higher turnover rate for entry-level roles have prompted it to hire an internal recruiter, refresh its internship and leadership training programs and proactively promote its brand as an employer.
"With it being such a market-driven environment out there, the best of the best know they are, and they want to work for the best companies and the best cultures, so that's a big advantage for us," she says. "We need to do a better job of getting that information out there."
Crucial branch roles
Pre-pandemic, the U.S. Department of Labor projected 33,700 teller openings each year between 2020 and 2030, resulting from the need to replace workers who transfer to other occupations or exit the labor force, including to retire. The department also estimated a 17% decline in teller jobs during the same period.
While shrinking branch footprints and increased reliance on technology are contributing factors, tellers remain crucial employees as the first — and most frequent — contact point for customers.
While bank teller jobs used to be long-term propositions, now they're seen as stepping stones to loftier positions in the hierarchy — leaving banks with constant entry-level openings to fill.
"Twenty years ago, we never had tellers asking how they could become a lender," says Kennebec Savings Bank President and CEO Andrew Silsby, an industry veteran who started as a summer teller. "Now we're working really hard to line up those steps so that people can see how they can get to another path."
That's very different from 28 years ago when he started. The bank was at 44 employees and nobody ever left, he says. Fourteen workers left last year, though Silsby considers it a positive that only two went to rival banks. The other 12 embarked on a career or life change, including one who opened a business and one who went into farming.
The bank raised its base pay to $20 an hour last year, in effect giving 96 people raises. Currently at nine openings after filling seven, the bank reports that applications are only trickling in.
"Five years ago," Silsby says, "we would regularly get anywhere from 30 to 40 applicants for an entry-level job. Now we're probably in the four to five range."
After trying some career fairs this spring, he doesn't see much hope there either, finding himself "a little horrified" at attendees' casual attire and attitudes:
"I would have put on a suit and tie, but person after person at these job fairs is showing up walking around the booths in pajamas," he says. "I'm not sure what I'm going to do when somebody shows up for work in pajamas."
A northern New England footprint
Bar Harbor Bank & Trust, the Downeast-based lender with more than 50 locations across Maine, New Hampshire and Vermont, is seeking to fill 30 open positions, mostly on the retail side.
"Most branches have been operating with smaller staffs as we have tried to hire new talent to replace staff who have left or retired" while also streamlining operations, says spokesman Joseph Schmitt.
Today, the bank is advertising for 30 positions, mostly entry-level retail openings.
"In some of the more seasonal and rural areas across our footprint, it can be a bit more challenging," Schmitt says, "as there is a high demand for few potential candidates."
Money talks
While money isn't the only lure, bigger banks can afford to offer higher pay and benefits.
Bank of America, for example, raised its minimum wage to $20 an hour in March. It also pledged to go to $25 an hour by 2025, well above what a lot of smaller banks can afford.
"That's real money — $10 an hour over what we're offering now, and it's a big issue for us," says Machias Savings' Daley, whose bank currently has a pay scale starting at $15 an hour plus full health benefits and a performance-linked cash bonus. "Ours will increase over time, but that's scary for smaller institutions."
BofA isn't the only bigger bank to use financial incentives as a recruitment tool. Maine market leader TD Bank pays a base starting salary of $18 an hour. Currently seeking to fill 17 openings in Maine, 36 in New Hampshire and five in Vermont, TD Bank recently introduced a $1,000 sign-on bonus and doubled what it pays for employee referrals.
"We've always had an employee referral program, but with the challenges brought on by the pandemic, we said, 'We really need to put a huge emphasis on this,'" says Marc Sylvain, who oversees TD Bank's retail operations in northern New England.
He notes that while the situation has improved over the last few months, TD's bonus and referral programs are helping, and underscores that retention is as important as recruitment. He also finds that entry-level teller jobs are harder to recruit for than senior roles and sees geography as the biggest challenge. His message to potential applicants: "The teller role is a great place to get your feet wet in banking."
Bangor Savings Bank, Maine's No. 2 bank in terms of market share, starts tellers at $18 an hour, but has a Living Wage initiative to ensure fair pay regardless of position, location or full- or part-time status. The bank currently employs over 130 tellers in Maine and New Hampshire, with 17 teller openings and an additional 25 summer float positions.
"We are constantly recruiting for all positions, seeking terrific people who are passionate about serving customers and communities and want an organization where they can thrive," says Ryan Albert, who heads human resources and employee development. He also touts benefits including tuition reimbursement and volunteering opportunities.
Just behind Bangor Savings in terms of market share and assets, Camden National Bank raised its starting wage from $15 to $17 last fall, which HR chief Heather Robinson reports is already having an impact.
"It makes that early conversation a lot easier when applicants hear that, but will a $17 wage be enough in the long term? We'll have to figure that out." The bank also bumped up its employee referral bonus during the pandemic and added a parental leave benefit in 2021, "and we're constantly thinking of new things that we can add or tweak." Like many of its peers it's also open to hiring people from outside banking.
"You definitely do not have to have banking experience," she says, "but any core customer service experience is very much welcome."
PHOTO / TIM GREENWAY
Heather Robinson, chief HR officer at Camden National Bank, says the bank's $17 an hour minimum wage is already making an impact.
Credit unions also challenged
Like banks, credit unions face a tough time recruiting these days.
"Recruiting and retaining the talent we need is a day-to-day challenge," says Vanessa Madore, who is president, chief operating officer and CEO-designate of Maine Savings Federal Credit Union in Hampden.
She makes it a point to thank every new hire, including four tellers who started in mid-March. "The mere fact that people show up to work is a miracle unto itself right now, so the simplest, most sincere thing you can do is to recognize them, see them and appreciate them. That's as important on Day One and Day Two as it is in Year 30."
She also knows where tellers are coming from, having started as a teller at Maine Savings 18 years ago alongside older women she teasingly referred to as aunts.
"They were really supportive and helped me grow in my comfort and confidence in that role," she says, recalling how she had to master a 10-key calculator and DOS-based computers. A Smith College psychology major who was the bank's first college graduate hired as a teller, today she looks for people with the right personality for the job rather than technical skills.
"More and more of the people we hire as tellers don't have that banking or cash background," she says. "But that we can teach."
PHOTO / JIM NEUGER
Vanessa Madore, president of Maine Savings Federal Credit Union, at the retail branch in the company's head office in Hampden.
While Maine Savings currently doesn't have any openings, South Portland-based Town & Country Federal Credit Union has seven openings for tellers and related positions.
"As with most employers, we have had to work even harder to recruit new staff, and have committed more resources to accomplish that," says President and CEO David Libby. During the pandemic, he says the credit union has looked at new recruitment avenues, including highlighting openings on social media and in its newsletters. One problem is that there's not always time to sit down with candidates to talk about the credit union's benefits and other attributes as a workplace. "Unfortunately, we can't always have that conversation because of how competitive it is right now," he says.
Back in the banking world, one institution that's getting a lot of attention is Chase, a newcomer to Maine with branches in Portland, Westbrook, Falmouth and Saco that aim to be up to 40 jobs by the end of this year. A fifth branch, in Yarmouth, is scheduled to open in 2023.
"The fact that we're new to Maine is exciting, and we're also attracting employees who are new to Maine," says Doreen Warren, Chase's market director for Maine, Vermont and New Hampshire. That said, "you've got to do your homework and market yourself."
Bank Employment Snapshot