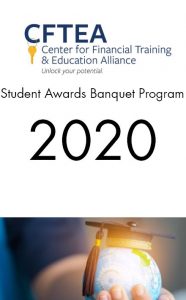 This year was very different -focusing on health and safety yet still working to recognize the hard work and dedication of students and their supportive employers.  For the first time in our history, we conducted digital student awards banquets on Zoom.  The energy and positive feedback allowed for a focus on some good news – when 2020 has been more than a challenge for everyone.
A huge thank you to all our supporters who are providing key focus on our community non-profit.  Congratulations to all our students!  Over the weeks we have been showcasing each organization on our Facebook page.  If you haven't done so – check out our Facebook page with exclusive content and share success with family and friends!
To view the full 2019-2020 CFTEA Student Awards Spotlight, click this link.
You rock!