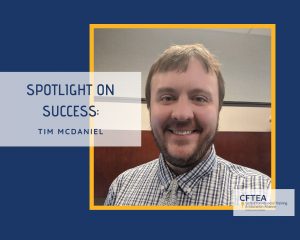 Spotlight On Success:
Tim McDaniel
TowneBank
Loan Coordinator
This is what Tim had to say about his CFTEA experience:
"I love learning! I enjoy the wide selection of classes that CFTEA offers with flexible schedules. I believe that a continued education doesn't stop at the university, but lasts a lifetime. A continued education is important and leads to other positive outcomes in life.
So far I've learned about effective telephone communication and the fundamentals of leadership. I've also taken Legal Foundations in Banking and Principles of Banking from CFTEA and I greatly enjoyed them. It's such a delight to expand my knowledge on these important and relevant topics.
TowneBank lets me know about some of these amazing CFTEA courses. By taking these classes, I encourage my colleagues to do the same."