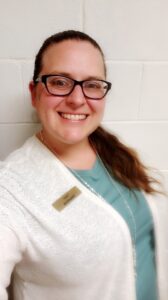 Taber E Ashley
Union Bank
Taber received a Bachelor of Science in Business Studies in Management with a concentration in Human Resources and a minor in Economics.
She is currently enrolled in "Today's Workplace" offered by CFTEA and is always up for more opportunities when it comes to learning.
Here is what she said about her CFTEA experience:
"When I started at [Union Bank], a few of my co-workers were enrolled in classes with CFTEA, so I asked them what they were doing. They explained that our bank provided educational classes (at the bank's expense) to help us gain better knowledge of the banking industry both from within and outside the organization. I also discovered that some of the classes available had the ability to be transferred to most colleges for credit. I am one of those types of people that craves knowledge so I decided to give it a try.
I like that CFTEA is keeping current with the world around us. I found that this bundle better prepared me mentally for what is happening and how to handle it. "How to Handle Change and Upheaval" gave me the tools I needed to accept the changes that I am faced with in these unprecedented times.
I plan on continuing to take classes offered through CFTEA. I like having the additional knowledge to help my customers."