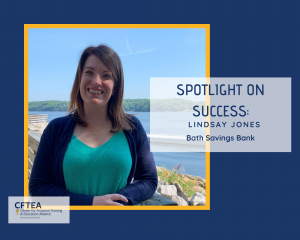 Spotlight On Success:
Lindsay Jones
Bath Savings Institution
Every course I have taken through CFTEA has benefited me in some way, not just at work, also in my personal life.
I have gained tremendous knowledge which supports the work I do.
I feel I have a deeper understanding of interest rates, payment allocation and most importantly team work.
Through the communication courses I have taken I have a better understanding of how to speak with confidence and how to clearly get my needs met. I have been able to build stronger relationships with my coworkers, my supervisors, and even my family from this knowledge.
The one thing that I have taken away from all the courses I have taken is a new sense of confidence.
Due to my new understanding I feel more confident in how I process my work, communicate with others, and assist my coworkers with the work they have.
I prefer the Guided Learning as I am a single mother and being able to do the work at my own pace when it is convenient for me has been so helpful. During COVID there were times when my two sons and I sat at our kitchen table all working on our classwork together.
Being able to see me studying and how dedicated I am to my education has given my boys a new perspective on the importance of education.