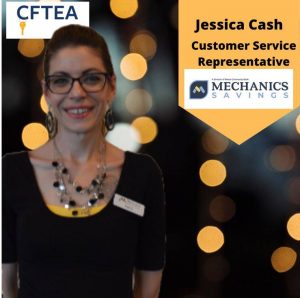 Spotlight on Success: Jessica Cash
Customer Service Representative
Mechanics Savings, a division of Maine Community Bank
Jessica was a guest student speaker at our 2019 student awards banquet in Auburn, Maine. Her story is one of inspiration.
"Prior to banking, I worked two jobs. I wanted to find a job where I could grow and support my children. I started my job search and banking kept standing out to me.
I started my career in banking just over a year ago and I feel like I've already accomplished so much. I can make this my future. While learning the role of a teller, I was able to take courses with CFTEA to gain my Certified Teller (updated with our new Certified Modern Banking Representative program in 2019.) I learned so much on how to present myself and engage customers.
When you have quality service and understand banking principles and regulations, you are able to build relationships. Those relationships build confidence in your financial institution and you as the face of the bank.
I want to strive to be the best I can and I am confident that Mechanics Savings and CFTEA will help me reach my next goal – for me and my family."