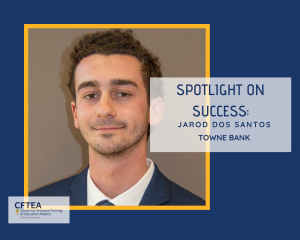 Spotlight On Success:
Jarod Dos Santos
TowneBank
This is what Jarod had to say about his learning experience with CFTEA:
"As a recent college graduate the Principles of Banking webcourse has helped me in many different ways. It has helped me better understand how banks work for the community and better understand how banks are run on a day to day basis in general.
Being so new to banking it gets a little confusing sometimes on why some things are done the way they are but this course has really helped me tie those things together and wrap my head around what's really going on.
I would recommend this class to people just getting started in the banking world like myself. It gives you a general understanding of how the bank runs and operates while helping you better understand why you do the things you do, overall a great introduction into banking.
I plan on taking more classes with CFTEA because you can't go wrong with continuing your education and CFTEA makes it easy for you!