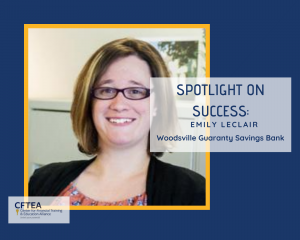 Spotlight On Success
Emily LeClair
Woodsville Guaranty Savings Bank
"I have benefited greatly from my current course with CFTEA. I came into my position not knowing much of Commercial Lending, but by taking courses that are specific to my position, I have been able to apply what I've learned to what I do day to day.
I don't think I can name just one thing about what I'm learning that has helped me in my day-to-day. All that I have learned and continue to learn helps me with my day-to-day work.
Currently I am taking Accounting, and I now am able to look at financial statements and understand how they are compiled, completed, and interpreted.
I feel CFTEA can help me to further understand my current position and help understand Commercial Lending in general.
The Guided Learning has offered me the flexibility of being able to take a course on my own time and at my own pace.
As a mom and working full time, it is hard to find the time to sit in an actual classroom.