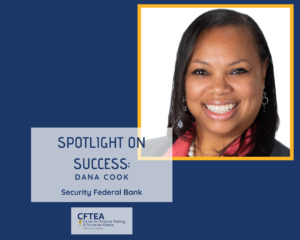 Dana Cook
Security Federal Bank
Dana was selected as an honor student in our Principles of Banking class and CFTEA interviewed her about her experience:
"As a person who has never worked in banking, My manager and I thought the Principles of Banking course would be a great foundation for my career within banking. This course set the tone for my continued growth and I look forward to taking more courses in the future.

As a Financial Counselor that works closely with our CRA Officer, I was able to see clearer the importance of CRA compliance and how to better assist our CRA Officer with reporting the data needed to keep our bank's performance in excellent status.
I would highly recommend the Principles of Banking course for anyone new to banking or anyone who wants to take a deep dive into how banking started, regulations and laws.

I enjoyed the web-course format to interact with fellow bankers and hear/see the different views and ideas of banking from other size banks and communities.

Security Federal Bank encourages our continued growth and learning in Banking to strengthen our knowledge to be a better asset to our bank, customers and community. I am currently enrolled in my next phase of learning, Consumer Lending.

Although the format is a little different, not live instructor led, it is amazing to have a discussion board to communicate ideas and thoughts.

The experience is great and I am continually learning."
Thank you Dana for your hard work!!