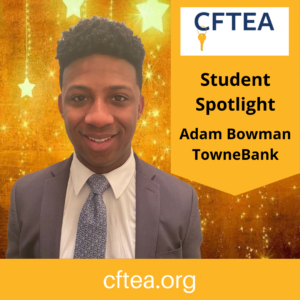 Spotlight on Success: Adam Bowman
Adam began working at TowneBank in 2018 and has recently transferred from a member service specialist in a retail facility to working in the loans department.
As someone new to the financial world, Adam had this to say about one of his ABA courses through CFTEA, "I took Principles of Banking which was very insightful. It laid a good foundation for a person who previously had no banking experience. It also showed me there was much more to banking than the retail facilities and that the banking industry can take you in a variety of different directions. I would say that if you haven't taken Principles of Banking, definitely sign up for it and take in as much as you can."
As a leader in quality employment, TowneBank provides quality options to its team members. Adam had this to say about his career development," TowneBank always encourages their employees to take extra courses to further their banking knowledge as well as provide financial assistance to employees wanted to take college courses." Recommendations from managers and the support of the organization play a large part in career success and strengthening the community.
Adam hasn't stopped learning. "I'm always on the lookout for new and interesting courses that are relevant to my career. Taking CFTEA courses gave me more assurance when it came to interviewing and branching out" to another area of the organization.
Congratulations to Adam for his hard work and new role at TowneBank! CFTEA is thrilled to be part of your professional journey.
Looking to see where you can gain the skills to succeed in your career? Check out over 30 careers paths that can help you build toward a successful tomorrow.