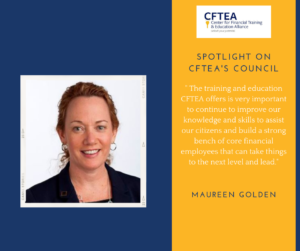 Spotlight On CFTEA's Council
Maureen Golden
Passumpsic Bank
Maureen Golden is Vice President, Commercial Loan Officer and Banker for Passumpsic Bank. This is what she had to say about her experience on the council:
"I am honored to be a Council Member because I believe our local banking community is vital to the economic success of our citizens, especially business owners.
I have heard directly from many customers over the last 5 years that they feel the experience and skills required to really assist our community within financial institutions is fading, mentorship is a thing of the past, shadow training is minimal, and that also makes it hard for local banks to retain and advance employees.
The training and education CFTEA offers is very important to continue to improve our knowledge and skills to assist our citizens and build a strong bench of core financial employees that can take things to the next level and lead.
I learned of CFTEA a few years ago and reached out to Andrew Lederer myself to ask about participating. I worked with Andrew directly assisting with re-building a branch management training program which was a rewarding experience."