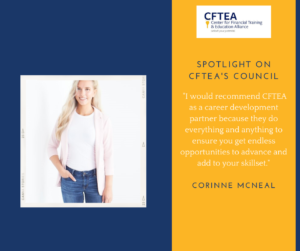 Corinne McNeal
Community National Bank, VT
I became a Council Member for CFTEA because I thought it would be an awesome opportunity to expand my horizons at the bank. I love helping people or teaching/assisting with new things and spreading knowledge to others.
My experience with CFTEA began in 2018 when I first started my career in banking. I would recommend CFTEA as a career development partner because they do everything and anything to ensure you get endless opportunities to advance and add to your skillset.
The room for growth is outstanding because they give you so many different certificates/diplomas to choose from that are affordable, and approachable as far as difficulty level.
They also offer many means of assistance if you get stuck.
I think the most rewarding part of being a council member will be the coaching/helping of others to learn and excel at learning, which is something I, myself, am passionate about, and always have been.
To see someone else achieve a goal they have always wanted to accomplish would put a smile on my face and instill the fact that I am making a difference as a council member.