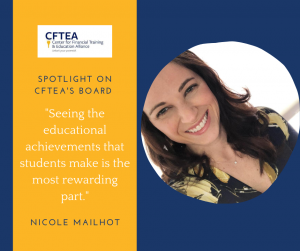 Spotlight on CFTEA's Board
Nicole Mailhot
Dirigo Federal Credit Union
I have been involved with CFTEA for a long time, previously as a council member and an instructor.
I became a board member because I have seen first hand how beneficial CFTEA is in growing banking careers and I have personally benefited from many of the courses and degrees I have obtained through CFTEA and love being part of an organization that helps people in this way.
Seeing the educational achievements that students make is the most rewarding part and knowing that I have a small part in that by serving as a board member and being a cheerleader for CFTEA.
I find being a board member for CFTEA to be a very rewarding experience and recommend the experience