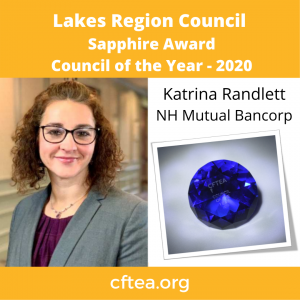 Sapphire Award – Council of the Year :  Lakes Region New Hampshire
Our Lakes Region council is small but mighty!  A huge congratulations to Katrina Randlett for her innovative approaches to education that allowed the financial institutions under the New Hampshire Mutual Bancorp to continue learning during this health crisis.
Katrina's work at leveraging ideas and innovation to create engaging environments for continued learning while reducing travel, focusing on health and safety and charging forward to still support employee learning is amazing!  Her energy is boundless.  We look forward to continuing to add more to our Lakes Region council as they celebrate this success.
Congratulations, Katrina!