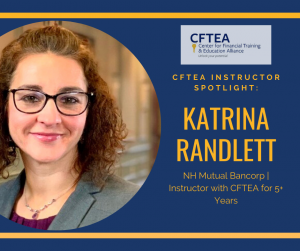 Katrina Randlett
NH Mutual Bancorp
Many organizations faced with the dilemma of COVID-19 and training remotely simply have done away with training for the present, as they don't offer online or remote classes for training purposes. NH Mutual Bancorp consisting of Meredith Village Saving Bank, Merrimack County Savings Bank (the Merrimack) and Savings Bank of Walpole has multiple locations throughout New Hampshire. How are they meeting new challenges to continue employee education?
We sat down and talked with Katrina Randlett, Learning and Development Officer for NH Mutual Bancorp, about how distance learning has benefited their employees around the state, before and now during the Coronavirus Pandemic.
"Our biggest challenge is that we are made up of three banks throughout the state of New Hampshire. It's not easy for our employees to gather in one central location to learn, since some would have to drive 3+ hours roundtrip for a training that last around an hour.
We have benefitted from distance learning even before COVID-19. The experience is great on time, decreases mileage expense and for branches with limited employees and we don't have to have employees gone for hours.
Prior to COVID-19 we had several centrally located training centers dotted throughout the state so that while students were learning remotely, they could still have a traditional group experience.
Technical difficulties can cause challenges but the input from our distance learning initiative has been positive!
Students have commented that they love being able to see the instructor over a webcam and that the small groups found within breakout rooms make them feel like a team. Another positive has been that there has been less travel and hours aren't lost to travelling to a traditional site.
We love the fact we can have instructors from anywhere and that even though the experience is remote, there is still great growth and a wealth of learning."