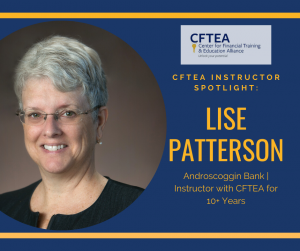 CFTEA Instructor Spotlight:
Lise Patterson
Androscoggin Bank
Instructor with CFTEA for 10+ Years
This is what Lise had to say about her experience as a CFTEA instructor:
"I have been in the banking industry since 1979. With that amount of experience comes a valuable skill set and "tricks of the trade" that only time and experience can provide.
Sharing that information, in my opinion, is not only vital but is also a responsibility for anyone who has a career in any industry.
There have been a lot of changes and an understanding of where we come from as an industry helps to provide students with not only the what but the why. Being an instructor has given me interactive skills, self-confidence, and public speaking abilities that I never thought I could achieve.
I have met a lot of wonderful, enthusiastic students who have brought to the class their thirst for knowledge, their integrity and their desire to excel. In my current position I have to stay abreast of not only compliance issues but client and community needs as they apply to the commercial lending area of banking.
As part of my ongoing education I attend webinars, live classes and also instruct within the organization as needed."