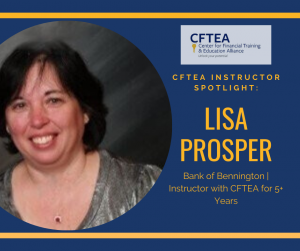 CFTEA Instructor Spotlight:
Lisa Prosper
The Bank of Bennington
Instructor with CFTEA for 5+ Years
This is what Lisa had to say about working as an instructor with CFTEA:
"I have learned right along with the employees.
Each time I teach the course again there is a new group of faces, new questions, and new perspectives. I have been able to get to know the employees better, on a more personal level which is wonderful.
The best perk is I feel it has made me more confident in speaking to people, individually or groups, something I was very nervous about in the beginning.
Most of the employees taking my class are already in a CFTEA certificate or diploma plan.
However, it is always encouraged to look outside of just those classes to others that may benefit them either in the position they are currently in, or one they may be interested in for the future.
Sometimes as I am teaching it becomes easier to see one of their strengths better than they do in themselves. When that occurs I like to point out what I see as potential and show them some opportunities to try to use it."
Thank you Lisa for your years of instructing for CFTEA!