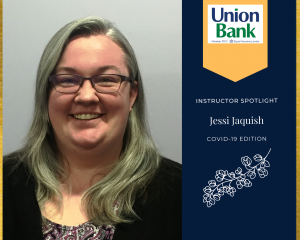 During these unprecedented times, we at CFTEA would like to continue to acknowledge and celebrate the flexibility and adaptability that both our instructors and students have shown.
In part 2 of this interview Jessi explains how, despite restrictions put in place due to COVID-19, she was able to successfully navigate teaching virtually!
"I know that I was a braver then I normally would have been because we already had a student who had been participating via video conference from the beginning.
My experience, students and peers gave me the confidence to try something else. I bounced some ideas off of another CFTEA teacher and got the encouragement that I needed. I was able to give everyone some one-on-one time which wasn't as easy to do in a class environment, and everyone could still interact with each other.
I was very proud of everyone involved and relieved that I had such an amazing support system. The encouragement from my students, coworkers and instructors at CFTEA gave me confidence and I am excited to hold another class in the future.
As a trainer, you always need to be prepared to adjust. Whether it is because of electronic glitches, a change in procedures or materials, or just adapting to everyone's learning style. This experience gave me the confidence to try tools that I wouldn't have tried before without the push.
I strongly encourage anyone who has the desire to teach in any forum to do it. If there is a class that you feel is needed, or that you are passionate about, then you already have most important tool that you need and adapting the material to what you need is not as scary as you may think."
Thank you Jessi for your great example and all the time you spend making CFTEA great!