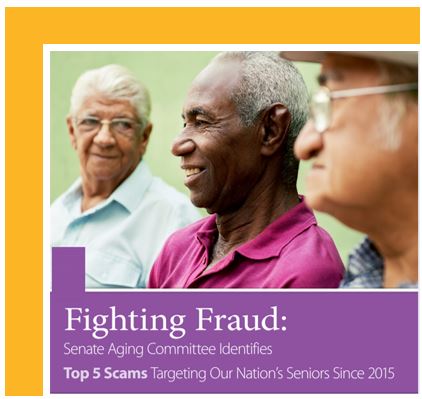 In 2018, CFTEA officially partnered with the U.S. Senate Committee on Aging to bring key education in protecting our most vulnerable population. We are pleased to announce that our material has been updated from 2020 and contains the latest reports and guidance. The new material will be incorporated into our new Certified Modern Banking Representative exam starting July 1. Fighting Fraud: Top Scams Targeting Our Nations Seniors is offered at no charge to protect our communities.
As the older adult population continues to grow, so do cases of financial fraud against seniors. During the pandemic, many seniors have been isolated at home and have become the perfect target for scammers. According to the FBI, seniors lose more than $3 billion annually from financial exploitation.
The Division of Aging Services Adult Protective Services investigated more than 9,000 reports of financial exploitation against seniors and adults with disabilities in 2020 alone. And tax season increases scam traffic as fraudsters set their sights on seniors' tax returns.
Two of the most prevalent scams against seniors include:
1. Medicare/Health Insurance Fraud
Since every U.S. citizen over the age of 65 qualifies for Medicare, scammers can target a senior based on their age. In health insurance scams, perpetrators pose as health insurance or Medicare representatives to convince seniors to give them their personal information. If you believe your caller is a scammer, hang up. Call Medicare at 1-800-MEDICARE (1-800-633-4227) and report the Medicare imposter at ftc.gov/complaint.
2. IRS Impersonators
Criminals typically threaten seniors over email, mail, phone, or in-person by saying they owe money for taxes. They demand that the person pay immediately or face potential jail time. The scammers use scare tactics to convince older adults to give financial information over the phone. If this happens via phone, hang up. Call the IRS at 1-800-829-1040 to check the validity of the call.
The number of different scams against seniors and disabled adults is far too long and growing every day. Other scams include telemarketing, robocalls, counterfeit prescription medications, investment schemes, and more.
How can you protect yourself or your older loved one from falling victim to a scam? Be vigilant! If something feels off about a call, hang up. Consider placing a fraud alert on their financial accounts so that if a scammer attempts to access their account, an alert will be sent to the account holder.
Unfortunately, over 90% of elder financial abuse is committed by a senior's family members. Elder financial abuse most frequently occurs when a family member or caregiver has gained control of a senior's money and assets and is using those assets for their benefit and not the benefit of the senior.