Don't Miss This Special Announcement!
Taking a certification exam can be stressful, costly and re-take exams cost even more. To help reduce cost and continue to give back, CFTEA is pleased to announce the addition of CFTEA replay.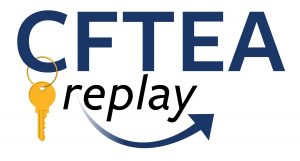 What is CFTEA replay?
When a student signs up for a certification exam for any of the following programs:
– Certified Modern Banking Representative (updated replacement of Certified Teller)
– Certified Banker
– Certified Modern Branch Professional – Level 1
– Certified Modern Branch Professional – Level 2
– Certified IRA Specialist CIS 1 (from Ascensus)
– Certified Health Savings Professional CHSP (from Ascensus)
– Modern Supervisor
Payment for an exam will cover the initial exam and a free re-take. If a student fails the first time, they may take it again starting within 24 hours after the original test was taken until six months later at no additional charge!
For students that took Certified Teller and had to re-take it – this is an amazing value and safety net for students and organizations financially supporting their career development!
Questions about CFTEA replay and the value it will provide – reach out to our CFTEA office and we are happy to assist.