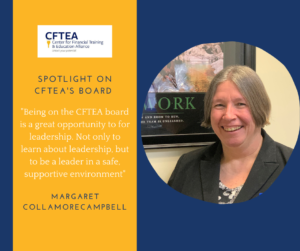 Spotlight On The Board: Margaret Collamorecampbell
Margaret has been an active partner of CFTEA for 25 years, working her way up from a student, then a council member, board member and serving on the executive committee.
Something she has achieved working with CFTEA is that she is most proud of is serving as president of the board in 2014 for several terms.
This is what she had to say about the rewards of working with CFTEA:
"The biggest reward of working with CFTEA is working with the students and instructors.
It's great to work with wonderful, likeminded, talented people. The board provides a great opportunity for leadership to learn about being a leader in a safe, supportive environment."