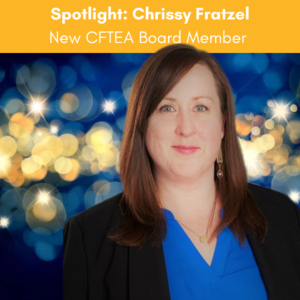 Board Spotlight: Chrissy Fratzel
VP of Human Resources
Claremont Savings Bank
Chrissy joined the board of directors this year and has a passion for professional skills and keen insight into the critical importance of supporting the new generations entering the workforce. Claremont Savings Bank has partnered with CFTEA for years and Chrissy applied to join the CFTEA board with thoughts of leadership. "As the head of Human Resources, it's typically a Human Resources employee that has served in some capacity on the board and I oversee the education budget. I have attended the student awards programs, and it is always good to celebrate with colleagues as they receive their certificates. As part of the bank's leadership team, it is a pleasure to see employees rewarded firsthand. I have a well-rounded view of training needs throughout the bank, so joining the board seemed like a logical step."
As she reflected on her input into the direction of the board, Chrissy is looking forward to watching first-hand as people take charge of their careers through learning. There are so many opportunities and the unique solutions and support from CFTEA are a natural fit to support workforce development for a new generation.
After completing her onboarding for the board of directors role, Chrissy had this to say: "This has been the best introduction to a Board of Directors I have ever seen!  I am excited to get started and be a part of the team."
One thing other board members might not know about Chrissy is that before her 20+ years in Human Resources, she was a first-grade teacher. Learning has been central to Chrissy throughout her career and CFTEA is thrilled to have Chrissy's leadership and insights for an innovative future. Welcome aboard!