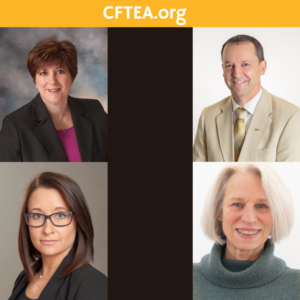 CFTEA is a non-profit that is thrilled to develop and work with impactful leaders. As we close out our fiscal year, a number of our board members are finishing their time with us. They have been critical in their influence and leadership in standing out as career champions!
We are focusing on the fond memories and wishing them well in the new chapters of their life! But, they will be greatly missed and their impact in guiding our non-profit, especially during the times of COVID, will be felt for years to come.
A. Joe Clukey from Katahdin Trust served on the Education Committee
Jane Clark from Community National Bank, VT served as President and Executive Committee Member
Krystal Boivin from Claremont Savings Bank served as Secretary/Clerk and Executive Committee Member
Mary Hewett from Norway Savings Bank Arena served on the Education Committee
Thank you for your powerful and positive spirit and willingness to invest you8r time and energy in crafting the future of our non-profit.
There are not enough words to express the deep personal appreciation for allowing us to be part of your journey and providing the leadership that has taken CFTEA to where we are today.
All our best!