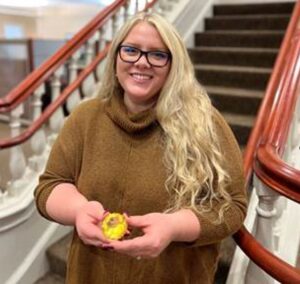 Brianna Critch of
Claremont Savings Bank
has been awarded our 2022 Making a Difference Award. The award is based on innovative thinking and inspiration. In the post-pandemic world, CFTEA is constantly growing in an effort to provide career thinking to the next generation of professionals. As an active CFTEA council member, Brianna engages in a way that provides opportunities that aren't just the same thing the non-profit has always done. At one of the council meetings, Brianna suggested that young professionals need guidance and support in how to build and retain relationships within the community marketplace. When approaching business relationships, there are often differences in age, gender, and communication styles. Brianna suggested a panel of successful relationship builders to hear their career advice and insights. From that suggestion, a panel was formed and a panel discussion was developed on the topic:

Fostering Positive Business Relationships and Connections

. The panelists have volunteered their time, and CFTEA is offering the panel on October 19, 2022, from 11:00- 12:00 at no charge. Brianna's active involvement developed a program that supports the CFTEA's mission: professionals teaching the next generation of professionals in the banking industry.
This type of CFTEA council involvement and support is outstanding and a clear example of why Brianna has been awarded the 2022 CFTEA Making a Difference Award!
A huge congratulations to Brianna on receiving an award that has never been given to a non-CFTEA board member!
2019 – Katrina Randlett & Nancy Hines